This article was originally published online
here
 on 10/02/2021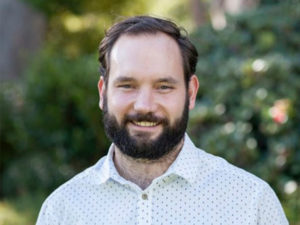 Dr Nic Spaull from Stellenbosch University's Economics Department was this week awarded a P-rating by the National Research Foundation (NRF), the highest rating possible for post-doctoral researchers in South Africa.
It is typically awarded to fewer than seven people per year across all disciplines, and is also referred to as the NRF President's Award.
Spaull says he was excited when he found out about his rating: "It's always nice to get recognition from​ other researchers working in your field, and it feels great. It was also good to look back on the last eight years and figure out what the common thread was in my research. It became clear that it was about inequality and injustice. The fact that most kids don't learn how to read for meaning or calculate with understanding is a huge driver of inequality, and it's just wrong. We need to figure out how to fix it."
He also explained that he's part of a much bigger group of researchers called the Research on Socio-Economic Policy group (RESEP) within the Department, of which he is a senior researcher.
"It's gratifying to receive awards, but it's also a useful check on your ego to remember that research isn't a solo activity; it doesn't happen in a vacuum. You're constantly presenting papers, getting feedback, reviewing other people's research, analysing data that other people collected. I've been really lucky to find myself in a group of people that are collegial and friendly and care deeply about education and how to improve it. That's largely thanks to Servaas van der Berg and his leadership and guidance."
Prof Van der Berg is the incumbent of the Research Chair in the Economics of Social Policy at SU, and was also Spaull's PhD supervisor and mentor.
Spaull's rating was based on his research output over the last eight years, including a recent book he co-edited with Professor Jonathan Jansen of SU's Faculty of Education. The book is titled Primary Schooling in South Africa: The Enigma of Inequality(2019) and it received a number of high-profile endorsements.
In one of his earliest pieces of research, Spaull converted his Master's thesis into a journal article titled Poverty and Privilege: Primary School Inequality in South Africa (2013). This has subsequently become the most cited article in the prestigious International Journal of Educational Development, being cited 558 times since then, with the popularised report version gaining another 709 citations.
Looking to the future, Spaull aims to focus on some new research questions.
"I'm getting interested in understanding the interplay between technical problems and the way that research does and doesn't inform policy. The old notion of 'evidence-based policy' is a myth. That's just not how the world works. Understanding how and why policymakers implement the policies that they do − that's really important. You can't change things if you don't understand them."
So does that mean he's moving away from research on early grade reading and mathematics and inequality?
"No, I'll do that for the rest of my life. How do we get all kids reading for meaning and calculating with confidence? It's such a well-defined research problem that's also really important so I'm happy to spend my life cracking away at that one. It's such a no-brainer that we simply have to answer that question."
In addition to his research and teaching at Stellenbosch, Spaull has also been invited to policy roundtables with President Ramaphosa and Minister Mboweni, and is a regular adviser to South African philanthropies. He also founded Funda Wande, an NGO focusing on implementing interventions aimed at early grade reading and mathematics. Most recently, in March 2020, he initiated the National Income Dynamics Study Coronavirus Rapid Mobile Survey (NIDS-CRAM), leading a consortium of over 30 researchers from six universities to understand the socio-economic impact of the pandemic.
Read more about Nic's and other RESEP researchers' involvement in NIDS-CRAM here.