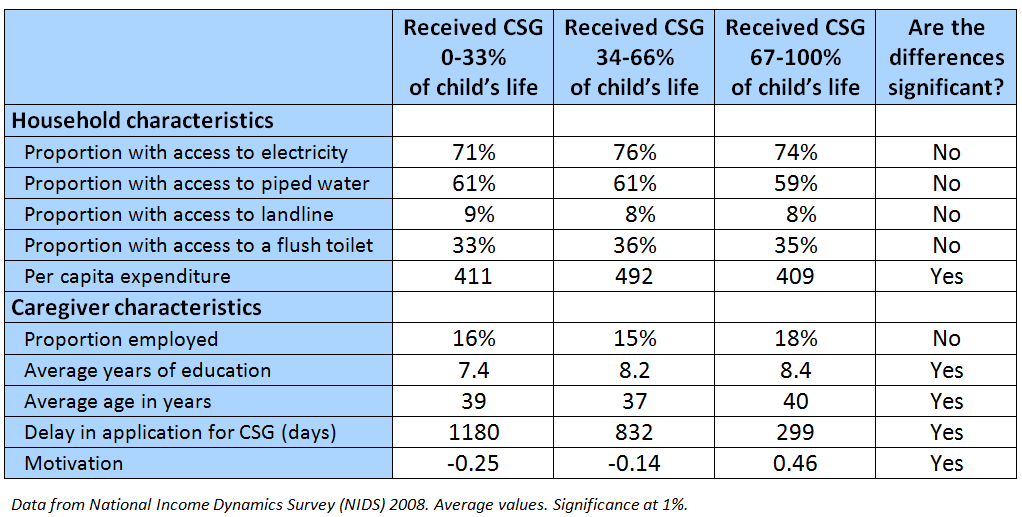 Recent research on the impact of the child support grant by ReSEP affiliate Marisa Coetzee has been released on the policy website Econ3x3. Marisa's research, first published in the South African Journal of Economics in 2013, examines the differences between children who have been receiving the grant for a large proportion of their lives to children from a similar background who have been receiving the grant for a smaller proportion of their lives. The study uses data from the National Income Dynamics Study collected from approximately 7000 households in 2008. The findings suggest that children who have been receiving the child support grant for a larger proportion of their lives are more likely to be taller for their age and are less likely to repeat a grade at school than their peers. In addition, the study finds that the adults in these households are more likely to spend more money on food and less on what economist call "adult goods", i.e. alcohol and cigarettes.
The research therefore finds that the child support grant has a positive impact on those children who receive it. This adds to the growing body of evidence indicating that welfare grants (of which the child support grant and the state old age pension are the most prominent) have significantly positive impacts on the lives of recipients.
Marisa's research has also been reported in the Business Day and Beeld and she was interviewed on Talk Radio702, Radio Pretoria and Phalaphala FM. The research was also featured on eNCA on 18 July 2014 and mention of the study was made in Daily Maverick.