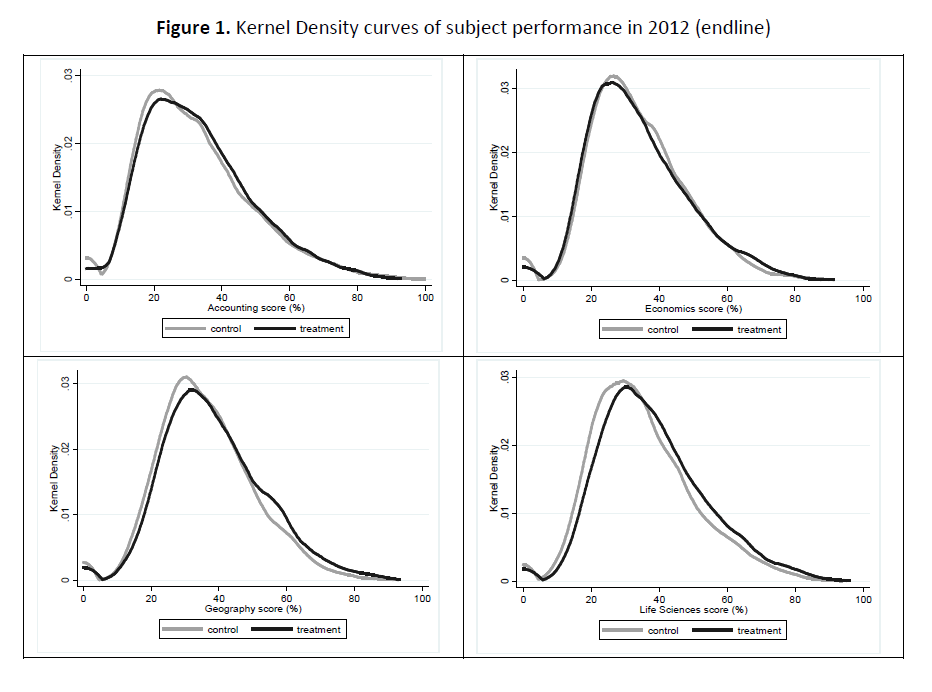 New research estimates that well-designed study guides for just two matric subjects could increase the national pass rate by up to 2%.
The low-cost solution would see targeted study guides distributed to schools aimed at specific subjects, and early pilot studies already show promise in low-income schools.
The findings are based on research detailed in a Stellenbosch University Department of Economics Working Paper conducted by Stephen Taylor and Patricia Watson, both economists from the Department of Basic Education (DBE).
Their study used data from a DBE sponsored roll-out of matric study guides to schools in 2012, called Mind the Gap. The study guides were developed in conjunction with academics, teachers, examiners, and curriculum officials to the end of assisting learners in weakly performing schools where curriculum coverage may have been incomplete.
The researchers identified the Mpumalanga province as the target for their randomised control trial (RCT), which yielded a representative sample of 318 schools worth of data points.
Study guides for four subjects (accounting, economics, geography and life sciences) were sent to 79 of these schools that were randomly selected.
Taylor and Watson found that pupils who received the guides performed significantly better with the guides in both geography and life science subjects with an average of 2% higher scores.
The impact on economics and accounting was not statistically significant. When the researchers accounted for this in the data, the humble two percent score increase across the other two subjects translated into a 6.5% increase in an aggregate matric pass mark, on average. Given that the bulk of these pupils generally have aggregate scores between about 25% and 40% An increment of 2 percentage points in two subjects is therefore likely to be the difference between passing and failing for many.
Had these study guides been available nationwide for life science and geography students, the researchers calculate that an additional 5609 students would have passed their matric year.
The authors do caution against too simplistic a view on the impact of study guides as solutions though. The lack of an effect observed for two out of the four subjects highlights the need for bespoke solutions, since certain grade or subject-specific materials may be more or less effective than others due either to quality differences or contextual factors.
It is, then, important for policy-makers to realize that interventions such as this should not be viewed as blanket interventions.
But the authors believe the message is still optimistic in outlook, if it is also bleak in describing the status quo. "Providing pupils with a study guide lead to an increase in learning roughly equivalent to a third of a year of schooling. While this casts a favourable light on the Mind the Gap intervention, the fact that this sort of 'slack in the rope' exists points to serious deficiencies in teaching and learning in South African schools."
The research by Taylor and Watson is available as a Working Paper by clicking here.