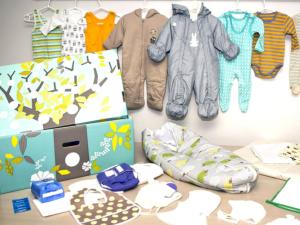 Two South African entrepreneurs, Ernst Hertzog and Frans de Villiers, in partnership with Stellenbosch University, are launching a project to target the country's high infant mortality rate. The project, recently featured on a BBC Horizons documentary, will distribute so-called Thula Baba Boxes containing baby clothes, medicine, development toys and literature for the parents. Apart from providing free products and literature, a system of rewards (incentives) will be implemented to encourage expectant mothers to visit antenatal clinics earlier and more frequently.
De Villiers said these interventions, which had been designed in partnership with researchers from ReSEP, were crucial to improve infant and maternal wellness, but should be based on data.
"Infant care is not cheap, and with the inflation rate we have, it's not going to get better. The box is not only meant to give the mother a means to keep their baby alive, but hopefully also to give them an advantage in life."
Speaking on behalf of the Stellenbosch University team of researchers involved in the project, Prof Ronelle Burger of the Department of Economics and ReSEP, commented,
"The initiative not only distributes products and information but also offers incentives to change behaviour. It therefore has great potential for improving the lives of mothers and babies. Similar schemes have been successful in promoting health in other countries and we that this study will provide useful inputs for policy making, but also contribute to ongoing international research on the role that incentives can play in promoting better health choices.''
The pilot study will be launched on a small scale, giving the designers and ReSEP the chance evaluate the project.  "The study will start in the middle of May. We will conduct the research in a community in the Western Cape and involve 200 participants. We hope to have results for the study in February 2015," explains Burger. Hertzog added that the study was important to them since one cannot just assume that the implementation that was successful in Finland will be effective in South Africa.
The concept is based on the famous Finish project which managed to lower infant mortality from 65 deaths for each 1000 children born to 3 in 1000 between 1938 and 2013.
The project was recently featured on KykNet and BBC as well as in various print media.