NEWS 
---
Health Group Members Attend the 11th International Health Economics Association (IHEA) World Congress in Milan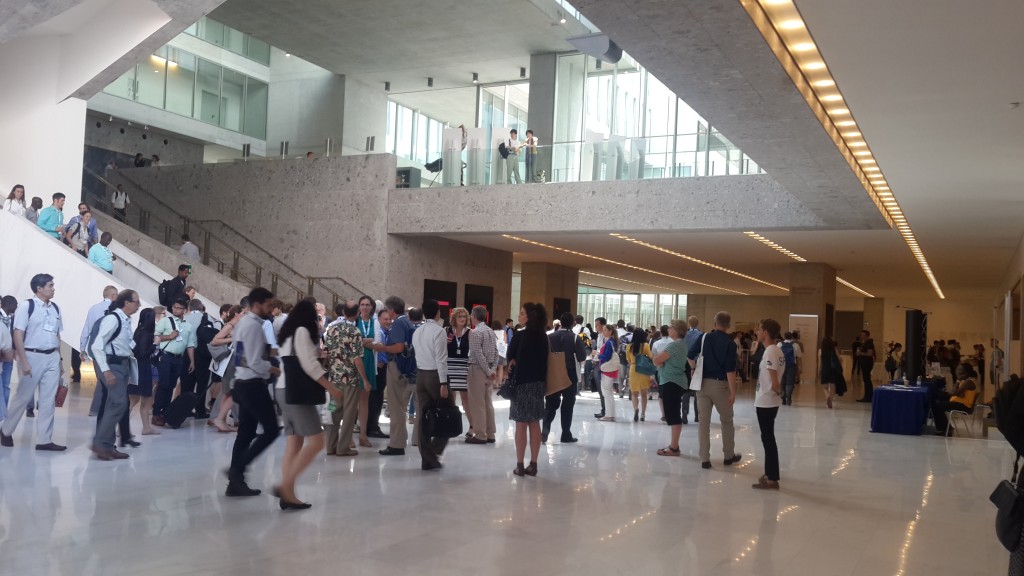 A sweltering Milan played host to this year's 11th International Health Economics Association (iHEA) World Congress. Bocconi University – winner of the 2008 World Architectural Festival Award – welcomed over 1500 international delegates who attended the congress from 12 to 15 July 2015. ReSEP Health Group's (RHG's) Laura Rossouw and Carmen Christian, who both presented some of their latest health economic research, were amongst the stream of excited health economists eager to network and share research experiences with their peers.
The opening plenary session kicked off with a key note speech by the prolific Esther Duflo – development economist and founder/director of the Jameel Poverty Action Lab (J-PAL) – who spoke about seeking to understand nutrition behaviour. The 1000-seat auditorium was packed to capacity for Duflo' presentation, with many delegates having to sit in the aisles in order to remain in the venue.
Duflo's attendance levels were rivalled only by Ernest Fehr – Professor of Microeconomics and Experimental Economics at the University of Zürich –  who held a plenary session later during the week. His fascinating talk concentrated on the role of bounded rationality in strategic interactions and on the neurobiological foundations of social and economic behaviour. He discussed his cutting-edge research, which involves applying the combination of game theoretic tools with experimental methods. One such project made use of implicit attitude testing to investigate the socially-sensitive topic of female genital cutting.
All work and no play make for dull delegates, and the Milanese are anything but dull! The congress' gala event was held at the acclaimed Eataly – an Italian food emporium – where delegates let their hair down and were treated to a 4-storey delight of high-quality Italian food and drink (yes, they booked the whole emporium just for us!).
Overall, the iHEA congress exposed us to high quality health economic research, provided us with a platform for networking and reconfirmed that we are doing good work back home in South Africa. We look forward to attending the 12th iHEA World Congress in Boston, 2017!
Conference details: Health Economics and Nutrition; Bocconi University; 12-15 July 2015; Milan, Italy
Presentations: 
Laura Rossouw: Poor health reporting: do poor South Africans underestimate their health needs
Carmen Christian: Towards universal health coverage: affordability and acceptability of public health care in post-apartheid South Africa